Come hell or excessive water: Voices of the flood — Vern Kimball, former Calgary Stampede CEO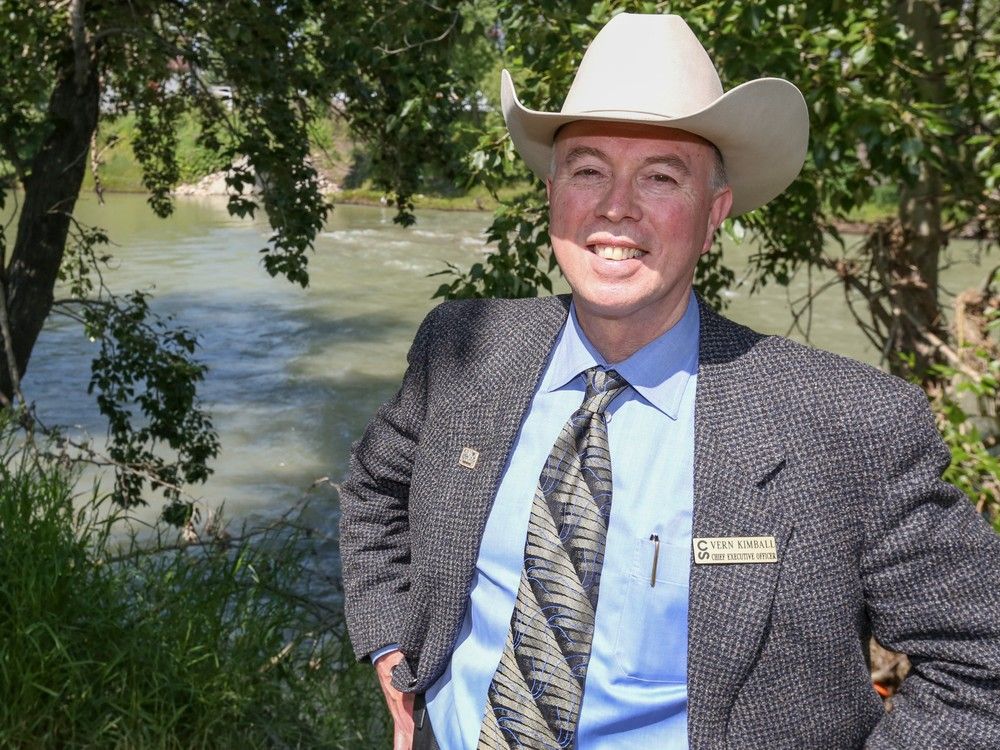 Article content material
Vern Kimball was the CEO of the Calgary Stampede, which noticed its grounds utterly submerged throughout the 2013 flood — simply two weeks earlier than opening day. Listed here are a few of his recollections of the catastrophe.
Article content material
Getting ready for the annual Stampede celebration is all the time a last-minute push. Nevertheless, there may be an ingrained understanding by all concerned that come parade day, the Calgary Stampede can be able to welcome the world. That understanding was examined in 2013 when simply two weeks earlier than opening, Stampede Park was largely underneath water.
Article content material
As I write this column, it appears unimaginable looking back that we had been capable of welcome the world July 5, parade day, simply as we had performed annually for the previous 100 years. In fact, this was solely attainable as a result of extraordinary dedication and collective effort of crew members, volunteers and supporters. Listed here are a few of my recollections and musings from 2013.
Thursday, June 20, noonish: I'm about to vary for a exercise when Stampede Safety calls. The Elbow River is rising quick and should trigger flooding. Do I work out or return to Stampede Park? Return to Stampede Park, take a look at Elbow River from our pedestrian bridge. Yup, water is rising quick and livid — inside inches of submerging it. Oh my!
Time slows. We convene the disaster crew — VPs Warren Connell, Paul Rosenberg, Paul Harrison, Deanne Carson, Susan Garnett and director of communications Kurt Kadatz. Town has declared a state of emergency. The Stampede crew is aware of what to do based mostly on expertise from the flood of 2005.
Article content material
2 p.m.: Flood defence measures go into impact. The Elbow River Camp is evacuated; animals are relocated; sandbagging and concrete obstacles are positioned strategically round observe, Grandstand, BMO Centre and electrical substation; storm sewers are closed; tools that might float away is relocated or locked down.
2:38 p.m.: Town points group evacuation orders; it asks for Stampede volunteers to help with evacuee reception centres.
8 p.m.: Some workers are known as again to work to maneuver information, computer systems and different valuables from basement areas to greater floor.
Midnight: Stampede Park is evacuated, aside from a small crew of workers led by electrical foreman Steve Agar. They keep via the night time within the electrical substation utilizing pumps, brooms, and squeegees to maintain flood water away from important electrical infrastructure. If substation fails, electrical infrastructure can't be repaired in time for Stampede.
Early Friday, June 21: Meet with Warren Connell at prime of Scotsman's Hill to survey injury. One bridge is washed away; Elbow River Camp, infield and observe all underneath water; Large 4, ag constructing, headquarters, individuals centre and Saddledome buildings are all flooded. This isn't the flood of 2005. I name Bob Thompson, president and chairman of the board; he gives prompt and full assist to do no matter must be performed.
Article content material
9 a.m.: It's the primary of twice-daily disaster administration crew conferences. Work will get divided. Warren Connell and Paul Rosenberg tasked with evaluation of bodily infrastructure injury and restoration and programming prospects for Stampede. Key restoration and operational points: Can we rebuild infield and observe? The place will we get 10,000 cubic metres of the proper of dust? Can we get 63 flooded or partly flooded buildings cleaned/sanitized in sufficient time for Stampede set-up? Can our volunteer committees, workers, halfway, performers and opponents ship the Stampede with severely compressed set-up time? A number of questions, no solutions. Throughout the day we obtain tons of of calls from volunteers, sponsors and authorities officers providing assist. Media are eager to movie and canopy the flood story from Stampede Park and need to know if there can be a Stampede.
Late Friday night: Dust is sourced; contractors, suppliers and technical specialists are all able to go as soon as flood water recedes.
Early Saturday: Water recedes. The flood influence is clearly seen and it's overwhelming. Later that day I ask Mike Sharp (our observe foreman now chargeable for eliminating 10,000 cubic meters of contaminated dust and rebuilding the observe with new dust), "How's it going?" He says, "We acquired you coated."
Article content material
Late Saturday: The disaster administration crew is resolved that we are able to ship Stampede and a press convention is deliberate.
Monday, June 24: President and chairman of the board, Bob Thompson, declares that Stampede 101 will go forward, "Come hell or excessive water."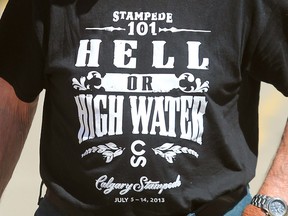 On reflection, three issues stick out. The 2013 flood gave the group a chance to be its finest. Stampede board members, volunteers and workers all shared a can-do angle and the "come hell or excessive water" willpower. When our volunteers had been prevented for security causes from serving to with flood restoration, they deployed to evacuee centres and served scorching breakfasts to different flood-affected communities like Canmore, Siksika and the Calgary Zoo. An incredible esprit de corps permeated the whole group.
Secondly, the Stampede displays the group. The "hell or excessive water" slogan got here from the group, from the twittersphere. For enjoyable, we initially ordered 720 T-shirts with that expression. Neighborhood assist finally resulted within the sale of 165,000 of them — a testomony to the pleasure and possession the group has in its Stampede. T-shirt proceeds of $2.1 million went to the Crimson Cross for flood aid efforts.
Third standout reminiscence? The payoff for the group's response to the flood was captured for me after we opened the gates on parade day. A younger lady, about 8, wearing her best Stampede apparel, and grinning from ear to ear, excitedly and proudly led her household onto the park. It was a good looking second!
On this particular collection of visitor columns known as Voices of the Flood, group leaders on the time of the good flood of 2013 are sharing their recollections a decade after the catastrophe.